PSD to JPG
Convert online and free PSD to JPG
Uploaded filetype:
Choose filetype:
Advert:
To open a Photoshop file (psd) without Photoshop you could use a complicated image processing program like GIMP or Photoshop itself – this is unquestionably the best option for editing these files but not needed for taking a peek at them.
The easiest way to open psd files without having Photoshop installed is to convert them into jpg files – without the need of downloading or installing new software. Unfortunately this solution is not perfectly suitable for editing them, because all other information, like the different layers, is lost during the conversion. But this is not an issue for viewing these files – actually the files get even smaller which might be an advantage for only viewing those .psd files.
How to convert psd to jpg online?
You are only three small steps away from downloading your converted jpg file:
Upload your .psd file using the blue "Choose file" button
Check the target file-type (.jpg is preselected, but you may choose any other)
Click "start conversion" and wait for your download to start on the next page.
Use .jpg or .png for images?
The JPG file format has it's advantages when photographs come into play: Photographs can get compressed perfectly be reducing similar colors. PNG files can't do so and that's why they are perfect for graphics (like logos). Additionally .jpeg files do not support transparency whereas .png does. So if you're using a transparent background .png should do it.
Guide: Convert PSD to JPG online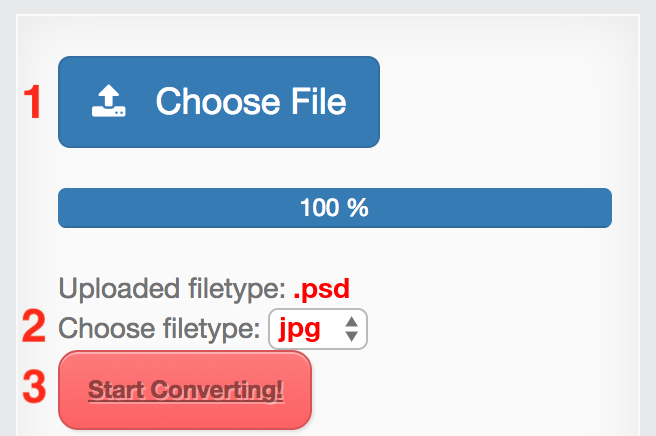 Choose input PSD file
Check target filetype and change if required (JPG)
Hit the "Start Converting!" Button
That's it! Your download will start automatically on the following page
Currently we support the following conversions with PSD files:
All Converters
Information about the extensions for the conversion from PSD to JPG
From: PSD
The professional image editing software Photoshop stores files in the format PSD, Photoshop Document. These files allow the saving of all work steps and levels and thus provide a lossless access to the entire work on the document. As a matter of prin …
File extension:
.psd
More information and converters for PSD
To: JPG
The jpg, or JPEG, file format is used for images. It is often used for digital photos, and for images displayed on the internet. It is a common format that can be opened by most computers, tablets, mobile phones, and other devices. Saving an image …
File extension:
.jpg
More information and converters for JPG
Video-Tutorial: PSD to JPG
File-Converter-Online.com is a service for converting files online from one type to another. We take care of your privacy and take care of your files. As a part of this, there's no registration required on file-converter-online.com. As we're offering our service in a browser, it does'nt matter whether you use Windows, Apple OS X or Linux. Your conversion results will always be at the same, very high quality and of course, without watermarks.