ABW to DOC
Convert online and free ABW to DOC
Uploaded filetype:
Choose filetype:
Advert:
Abiword to doc File Conversion
If you are a fan of well-designed freeware and work with texts often, you have definitely heard of Abiword. The free, open-source word processor offers many of the functionalities of the industry standard, Microsoft Word, and enjoys growing popularity. However, its proprietary files (with the extension .abw) are not Word-readable, which can create problems with collaborative text editing and other situations in which a writeable text file is needed. This is where file-converter-online.com comes to the rescue, with a free and reliable service for abw to doc conversions.
Why you need an Abiword to Microsoft Word file conversion
It is only a matter of time before you, the happy open-source user, will have to send a .doc file to your colleague, boss, or technologically challenged relative (OK, let's call them "conservative" instead). While Abiword can read some MS Word formats, the opposite is not true as of yet. Additionally, formatting and fonts may vary between the two software packages even if mutually readable file formats are used. This is why the safest way to go is with a proper file conversion from abw to doc. It will preserve your original text formatting and ensure your document appears on the recipient's computer exactly as you designed it.
Free, secure, and instant conversions
file-converter-online.com provides a free and reliable file conversion service which preserves your anonymity and delivers an instant result. No need to sign up or provide any personally identifiable information: just upload your abw file, choose "doc" as target format, and click a button to get to the end result.
Guide: Convert ABW to DOC online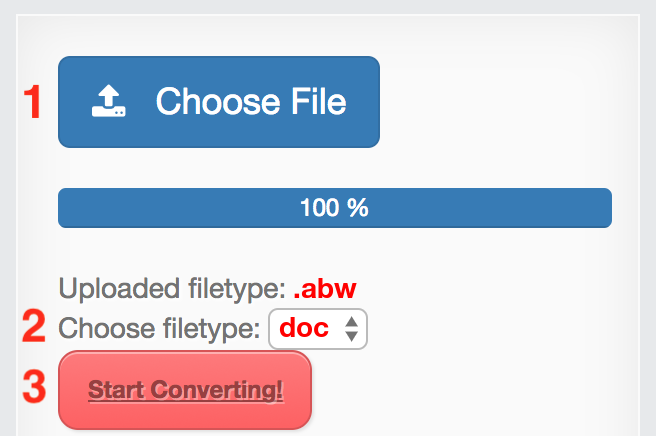 Choose input ABW file
Check target filetype and change if required (DOC)
Hit the "Start Converting!" Button
That's it! Your download will start automatically on the following page
Currently we support the following conversions with ABW files:
All Converters
Information about the extensions for the conversion from ABW to DOC
From: ABW
.ABW files are created with the free and free word processor AbiWord and can only be opened and edited with AbiWord. However, abw files can easily be converted online into .doc or .pdf. Thus, these files can be edited and viewed without the installat …
File extension:
.abw
More information and converters for ABW
To: DOC
Historically, DOC was a proprietary document file format used by Microsoft Word, the word processor program included with Microsoft Office. Indeed, it was the default file format used by Microsoft Word 97-2003. A DOC file can contain formatted text, …
File extension:
.doc
More information and converters for DOC
Video-Tutorial: ABW to DOC
File-Converter-Online.com is a service for converting files online from one type to another. We take care of your privacy and take care of your files. As a part of this, there's no registration required on file-converter-online.com. As we're offering our service in a browser, it does'nt matter whether you use Windows, Apple OS X or Linux. Your conversion results will always be at the same, very high quality and of course, without watermarks.